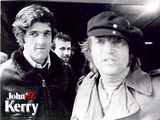 John Lennon
October 9, 1940 - December 8, 1980
May John Lennon rest in peace.
Some songs come to mind right now.
The Beatles - "In My Life"
There are places I'll remember
All my life though some have changed
Some forever not for better
Some have gone and some remain
All these places have their moments
With lovers and friends I still can recall
Some are dead and some are living
In my life I've loved them all
John Lennon - "Imagine"
The Beatles - "Let it Be"
Paul McCartney - "Here Today"
George Harrison - "All Those Years Ago" (Paul and Ringo were featured on this song)