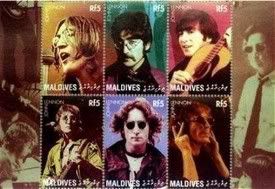 The above photo should be appropriately credited to Christinne Muschi/Reuters. The stamps were issued in 1995 on the 15th anniversary.
This
was originally posted last year on the 25th anniversary.
For many Beatle fans this week, December 8th has a special meaning to us. It's the anniversary of the date we lost John Lennon. We all have a special way of remembering his life. For me, it's the playing of his music. The music of love, peace, and understanding as Lennon's colleague, Paul McCartney, said during
The Beatles Anthology
. As the title of this post as well as a recent music collection suggests, the late John Lennon was a working class hero.
I've been a Beatles fan since 1995 when
The Beatles Anthology
first aired on ABC. I got my 1st guitar in 1999 as a result.
The Herald-Leader
aired an article from the Associated Press on the last hours of Lennon's life and how those around him reacted to the news. There was Alan Weiss (then-news producer at WABC TV), Dr. Stephen Lynn (then-ER doctor at Roosevelt Hospital), Officers Pete Cullen and Steve Spiro (Worked the night shift in Manhattan's Upper West Side). I was reading this article on Sunday this week. After reading it, I started to write this post because of how busy I know I will be today with two classes and a volunteer meeting for political activists.
The cops from the 20th Precinct hold a reunion every two years. Cullen comes up from his home in Naples, Fla., to hang out with the old gang. They don't talk about the Lennon shooting.

Weiss, after getting the scoop of his career, wound up leaving the ultra-competitive news business. "The major events of my professional career all had to do with other people's tragedy," he said. He now produces a syndicated show with teens reporting the news for teens.

Lynn is still working at Roosevelt Hospital, still the director of the department. As Dec. 8 approaches each year, he gets phone calls from reporters, from fans, from kids born years after Lennon's murder.
On Sunday, since I knew how busy I would be, I started playing my Beatles albums which will ultimately lead up to the playing of the only John Lennon solo album I have...and that album is played today as usual.
Then there's me playing the guitar as I always do on this date featuring the selected playlist of "In My Life," "Let it Be," and "Imagine." As well as any Lennon song I have the chords and tabs for like "Give Peace a Chance," "Whatever Gets You Through the Night," and "Instant Karma!" Like John Lennon, I play rhythm guitar even though Paul McCartney is my favorite Beatle.
The Chicago Tribune
pays tribute to the late John Lennon. Here's a small excerpt from that article:
McCartney wrote many of the band's most enduring melodies, but Lennon supplied more of the mission statements: "Turn off your mind, relax and float downstream" (from 1966's "Tomorrow Never Knows"), "All You Need Is Love," "You say you want a revolution...," "Come Together."
John Lennon was shot down when he was recording a new album. He was almost 40 years and 2 months old. His death meant that the Beatles would never reunite. Although they did "reunite" digitally through "Free as a Bird" and "Real Love," it just was not the same. The closest that they came to actually reuniting was when George Harrison organized The Concert for Bangladesh. Unfortunately, John wouldn't do it since George wouldn't let Yoko have a part (I'm no Yoko fan as I still blame her for the Beatles breakup). Then Paul cancelled.
John's death sparked a number of tribute songs from Paul McCartney's "Here Today" to Elton John's "Empty Garden." However, George's tribute to John Lennon titled "All Those Years Ago" featured all three surviving Beatles as well as Linda McCartney and Denny Laine. The 1981 recording was featured on
Somewhere in England
and was the only studio recording in the 1980's to feature the three surviving Beatles.
Do you have any special memories or plans for today?
John may no longer be with us but his legacy will live on forever. Rest in Peace, John.
I posted
this
on what would have been his 66th birthday last year.
John Lennon
October 9, 1940 - December 8, 1980
May John Lennon rest in peace.
Some songs come to mind right now.
The Beatles - "In My Life"
There are places I'll remember
All my life though some have changed
Some forever not for better
Some have gone and some remain
All these places have their moments
With lovers and friends I still can recall
Some are dead and some are living
In my life I've loved them all
John Lennon - "Imagine"
The Beatles - "Let it Be"
Paul McCartney - "Here Today"
George Harrison - "All Those Years Ago" (Paul and Ringo were featured on this song)